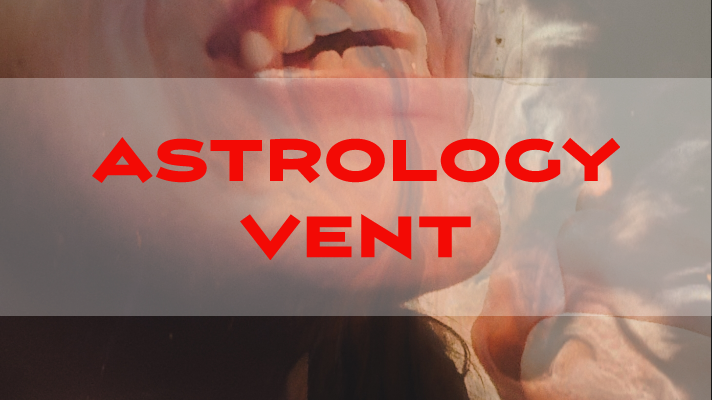 Astrology Vent
There is something I want to get off my chest about the study of astrology. I hope within this group that you can understand where I'm coming from.
I have always been interested in astrology since I was a child, but after studying with Ra Akhu (and I'm name dropping because it's pertinent: visit his website at www.cozmophyzix361.com) for almost 4 years, I have come to understand some things about this Science I was not previously aware.
One of the reasons this art gets such a bad rap is because we let our emotions dictate the language. And Astrology is a language, it is not a spiritual paradigm though it can be used to express spirituality. Yet I feel this is where we muddle things up. 
Astrology is not an "I feel" science. It is a science that shows that the motions of the sky CONCUR -physically, with events and behaviors on Earth.
It is the GPS of reality.
What we tend to forget is everyone is headed to the same destination from different directions and in different vehicles. We're all headed towards death. Astrology shows how we express ourselves and what we deal with to get to Death.
I often hear women complain that male astrologers are misogynistic. I think there is some confusion with this expression. Women by astrological nature are CANCER, thus we feel like a muthafucka. But Astrology is AQUARIUS and they are all about the information. Astrology is based on KNOWLEDGE, thus why it is ruled by Uranus/Aquarius NOT CANCER and most definitely not NEPTUNE.
There has to be a certain responsibility that allows astrologers to remove their emotions in there study and reading of astrology. 
You can't learn Chinese characters and change the meaning of a word because the character looks like a horse…nah boo that word is a kitchen, it's not a horse no matter how it feels.
For example, SATURN will ALWAYS be difficulty NO MATTER WHAT IT FEELS LIKE TO YOU PERSONALLY. Thousands and thousands of years of records and current PHYSICAL EXPERIMENTATION precede our "feelings" about it.
We give too much weight to what astrology FEELS like versus what it actually IS. Astrology is Uranus. It is not feelings. It is Science and science is void of personal emotion. (How do you say?) Aquarius at the ascendant puts Leo at the descendant which puts Cancer in the 6th house and Cancer is in the 12th house of Leo- personal ego. Cancer also opposes in the 6th house Capricorn in the 12th. Astrology is a constant battle between was is solid and what is emotional in this work. What is the sorrow of Astrology? Capricorn in the 12th house: WHEN YOU LACK STUDY, STRUCTURE & CALCULATION.
All I'm saying is if you're going to sage your astrology make sure you do the math first. (Aquarius BEFORE Pisces). Do not try to replace the math with spirituality. Astrology without a date IS NOT astrology. Leave that part to your ancestors who don't need dates and time, but do not confuse the two…