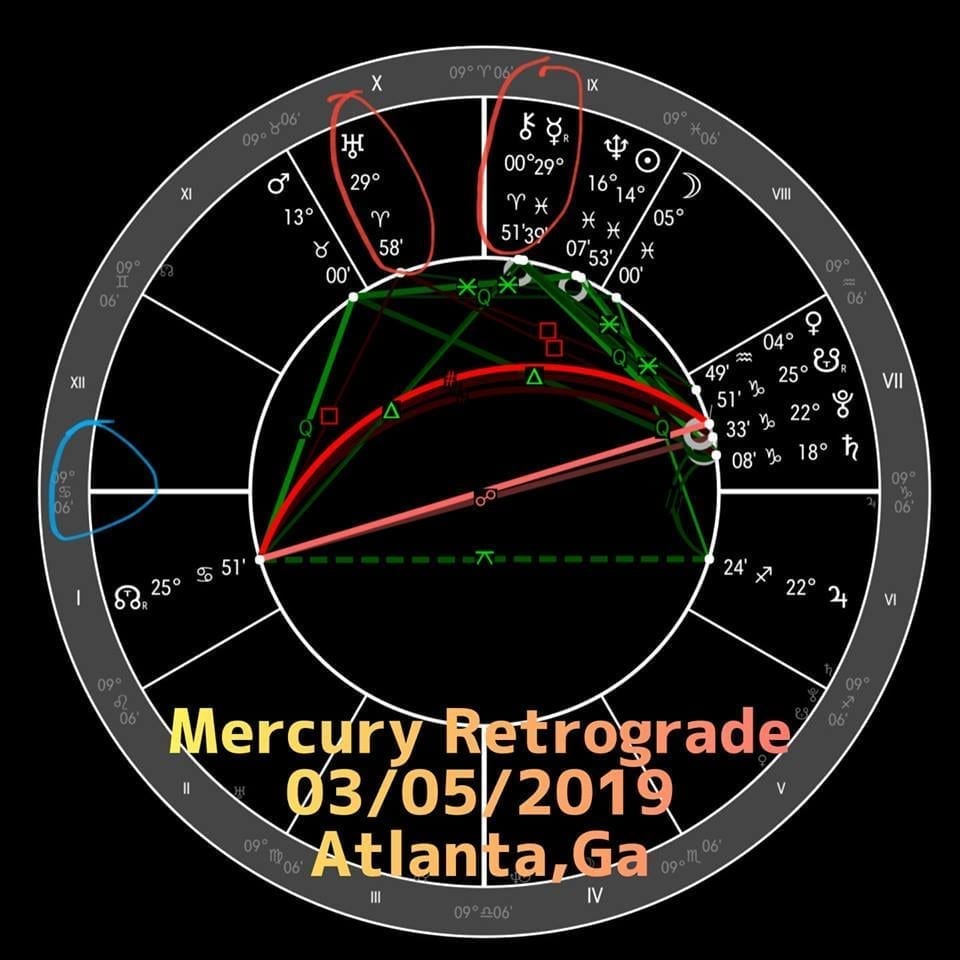 So the Mercury Retrograde is approaching (March 5th, 2019) and because it is the only planet going retrograde until April when Pluto, Saturn, and Jupiter will retrograde as well (Don't worry Mercury will be direct by the time this happens), I figure I'd point a couple of things out. Feel free to add anything you see too in the comments!
This chart shows the moment mercury goes retrograde in Atlanta.
The Ascendant is circled blue because depending on where you are the ASC degree will change. Other than that this is what the Mercury Retrograde will consists. It is also circled to note that Cancer is rising in this chart so emotions, parenting, and women will color the attitude of Mercury (and the rest of the chart) especially because by sign, Cancer trines Mercury in Pisces and the Moon will also be in Pisces.
I circled two important factors concerning this motion. One is Uranus in Aries is at the same degree (not exact, only off by 19 minutes of arc) and the Chiron in Aries conjunct Mercury.
Based off what I see here I would say whatever is said and done during this transit concerning Mercury activities will undoubtedly create explosive disagreements stemmed from emotional perspectives that lack complete information. The consequences of which will be felt again when Mercury and the Moon cross over Chiron. I wouldn't take anything at face value and if you're diligent and forthcoming you may be able to bring awareness to hidden information and at the same time avoid being exposed for dishonesty or omissions of information.
If you find that you're able to lie or hide emotions or knowledge successfully the victory may be short-lived the moment Mercury goes direct OR you'll find that during this transit any attempt at deception is thwarted at every turn. Even if you don't mean to deceive! Some deep meditation and contemplation may be necessary for deciding what should and doesn't need to be communicated.
This is an emotional Mercury this time and I would take advantage of the solitude Pisces represents. Read more, meditate, write, draw, paint, or sleep if you need to. If you can't avoid communication activities (which let's be honest most of us can't realistically)then gather as much information as you can before speaking. Understand your thoughts may be lingering on the delusional or imaginative side. And take solace that with Chiron conjunction Mercury there won't be much you can do about this transit anyway. What will be done, will be done, so don't fret too much about it.
If you take the higher road- The higher road of Pisces and Cancer (Nurturing and Inspiring), you won't have such a bad time. But if you're an over emotional deceiver…good luck.
Pull up your own natal chart to get more info about how this transit will affect you personally. My mercury conjuncts Neptune in my chart so I tend to enjoy my retrogrades as I usually get a moment of creative clarity and a chance to enjoy my writing and reading hobbies.
Also, pay close attention to what is happening around starting now as this will give you indications as to what's coming. For example, I have completed 3,400-page Novels in just one week. So my mental faculties may be in for some serious focus and completion so I would do well to knock out as much reading and writing as possible during the retrograde motion including the shadow periods.