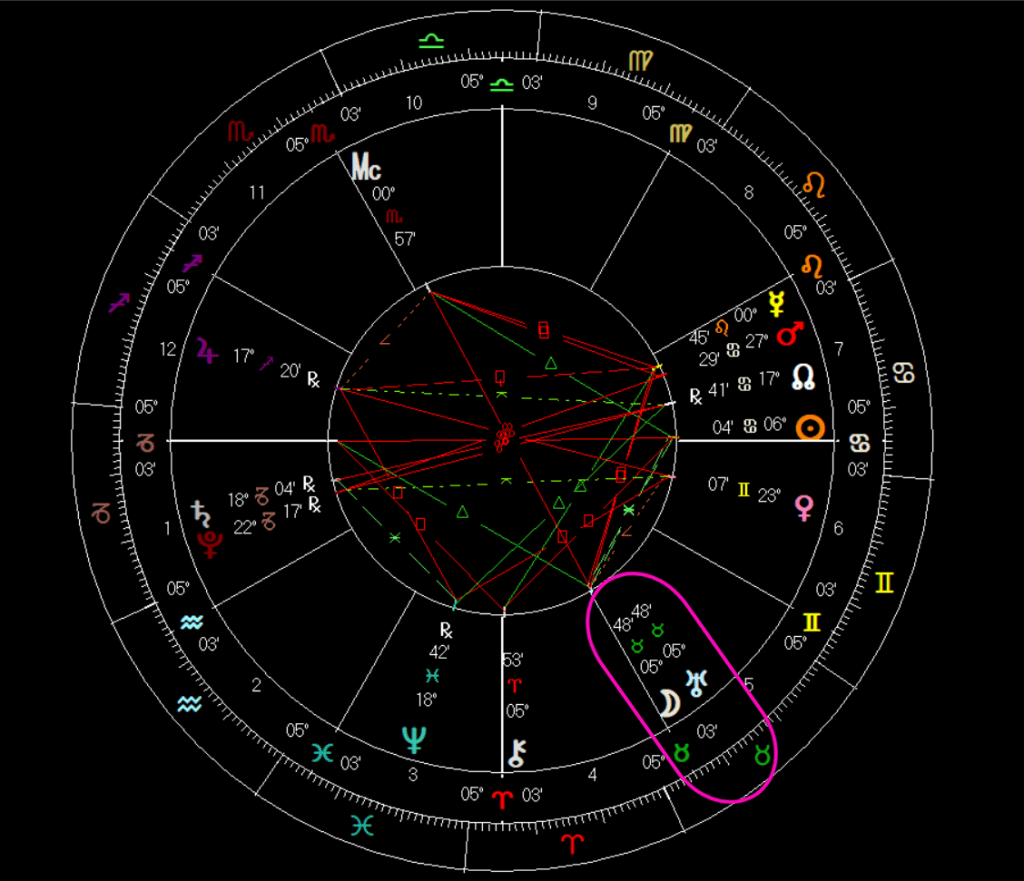 The moon will conjunct Uranus in Taurus in approximately 7 hours from now.
So let's discuss the nature of some of this energy…In this chart where I am located, it will be at 8:34 pm EST and Capricorn will be rising. The rising sign will change depending on where you are located, but the Moon/Uranus conjunction will be the same.
This speaks largely on domestic issues dealing with the home and on a personal level with one's emotions. Looking at the Moon being the ruler of Cancer we take a look at what sorts of energy one will encounter when it comes to Cancer. At a close sextile to the Moon and Uranus, we see the Sun in Cancer and a close square with Chiron in Aries.
Based on just those motions we can expect frustrating issues we can do nothing much about when it comes to the sudden changes dealing with the home, domesticity, family, land morals values, and money.
Adding to the energy is, of course, Venus in Gemini (Ruler of Taurus), Mars (ruler of Aries and ancient ruler of Scorpio-don't ignore that) in Cancer and Mercury (Ruler of Gemini/ Virgo)in Leo which is deposited back to the Sun (ruler of Leo) in Cancer.
We may face an onslaught of conversations concerning the values, land, home, money, and family, noting the concern with children and the sudden changes brought about.
So what can one do about this energy, particularly the frustrating part of it? Well with Chiron in Aries making a square to the Sun in Cancer, there may not be much that can be done in the way of how you or others may be feeling or you can proactively seek to heal through newfound values (looking at the bright side of things) and most definitely discussing it to release the pent up excitable energy you may be feeling and allowing others to do the same.
Overall with Saturn making a square by sign to Aries and opposing Cancer, you may be feeling utterly devastated by the changes that are occurring, but Saturn also makes a trine to Taurus which tells you that something can absolutely be done when handling the problems. Everything you're going through should be faced with the attitude to reconstruct your values, to plan before execution, to gather the broken pieces and rebuild.
Address all issues with a plan!! Be slow to react!! And be aware that how you and everyone may be feeling, is just a feeling and does not dictate being incapable of resolving the problem. Take time to figure out what's going on with your home life, with your money, and with your children. Take a different course of action, not based on your current emotional state, but based on what you're learning from it, there is value in the information received. And by all means, cry about it you have to, but do something about it when you're done!