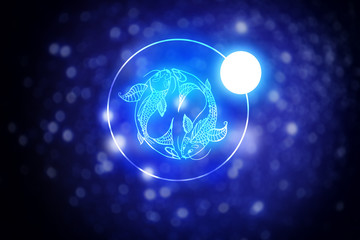 (Hopefully, I don't miss any details or overlook much…if I have pardon me in advance…The Moon is in Pisces, y'all haha)
The transit Moon in Pisces will remain so until approximately September 20th, 2021, at 11:21:27 PM EST. The Full Moon will occur at 7:53:27 PM EST. During this motion, emotions, the home, domestic issues, mothers, grandmothers, wives, daughters, girlfriends (women in general), and the subconscious will be taking on a Pisces theme. In other words, We're about to be a little crazy for the duration. I'm kidding… a little. In all seriousness, this is one of the transits that can sort of slip by without you noticing because that happens to be a ubiquitous trait of Pisces energy. Some people may feel extra lethargic or slightly confused about their feelings, so they brush it aside. Depending on what aspects and in which house this transit occurs, you may have received a message (if you're paying attention or you're lucky) warning you against ignoring or dismissing essential matters, especially having to do with Virgo activities.

I had two examples of this today. First, I received my graphics card for my PC that I sent off weeks ago for repair, and my partner mentioned that I should not ignore the children just because I have my favorite toy back. He was joking, of course, but I have Pisces in the 5th house. Ignore (Pisces) Children(5th house). I made extra sure that I wasn't ignoring them for the excitement of my hobby (5th house). Another example came later when I threw away a napkin in the trash (Virgo). I threw it like a basketball (playing with trash= Sun In Virgo), aaaaaannnnddd…missed like fuck. I was already a little annoyed at that point, so I told myself, "Fuck it, I'll pick it up when I come back." As soon as I turned around, a little voice said, "Pick that shit up now!" I was so close to saying no, but I gritted my teeth and walked back to put the failed paper basketball into the trash. Instantly I felt better and realized that I would be in the habit of trying to ignore details (Pisces oppose Virgo) to have fun or relax (transit Moon in Pisces in my 5th house).
A couple of other things to look out for other than taking a break from routines are people's emotional states. Pisces energy can be very soft; Pisces energy is often considered weak, passive, or even submissive. I say "can be" because there is another side of Pisces that is viciously dangerous and subtle, but we'll talk about the gentle side of Pisces right now. This energy with the Moon (which can also be quite delicate) begs for sympathy and empathy. Pisces energy doesn't appreciate harsh forces hence the reason Aquarius is in Pisces' 12th house. If you see someone acting strangely or has lost their way, be gentle with them if it doesn't put you at a disadvantage. Take the time to understand where they might be coming from emotionally before dismissing their behavior. I had another example of this today when I was talking to my brother in California. We were discussing a family member's (Moon theme) emotional well-being. Being the practical Virgo Rising that he is, my brother did not comprehend the kind of pain our family may be going through. To him, he has no time to wallow in the sadness or emotional disturbances. So, he couldn't grasp why they behaved in such a manner as to feel emotionally distraught. We talked about it, and eventually, he understood that maybe a little empathy was in order. My brother is a joy to talk to, by the way, as he is very open-minded and gentle.
Some other ideal energies for the Moon in Pisces are:
Heighten spirituality and Psychic energy
Empathetic and Sympathetic expression
Increased imagination
Perfect for those interested in ritual magic as this energy is ripe for casting and charging.
Vivid and Lucid dreaming (it is recommended to drink water (Moon) before falling asleep)
Emotional Peace and Meditation
Now on to the harsh side of Moon in Pisces with the Full Moon. This energy can also indicate:
Emotional instability.
Emotional delusion or disturbances.
Deceit and confusion.
Loss of focus.
Dissatisfaction with your home life.
Addictive tendencies
Be mindful that you may not receive the truth during this motion, whether on purpose or accidentally. You may receive information that isn't whole, especially if you are aware that the place or person you're receiving the information from is avoiding the details. The more you try to force the truth, the more the deception may manifest—sort of like watching a lie build. You're asking for something that may not be capable of existing at the moment. It is better to let things go, make a note of it, and come back to it later. Taking a moment to examine the sympathetic (Pisces) and empathetic (Moon), I would advise us to be careful. These motions are when details still matter because deception can quickly occur when someone pulls at your heartstrings. If you feel any amount of confusion when hearing someone's story, it may be best to wait until you can be sure within yourself that giving charity (Pisces) is in your (and theirs!) best interest. Drug use and alcoholism increase during this motion, and you may be enabling or contributing to someone's ill-being.
I'm not saying that everyone who uses drugs and alcohol will become addicted or self-destructive, but I am saying that the Piscean energy will not help them very much if they're already in too deep. And taking advantage of your sympathies may do them more harm and contribute to your possible guilt as well. So, keep an eye on the details, and when you're unsure, pull out. Be cautious. Don't be a sucker. Remember, Pisces' energy is subtle. If it feels good, it probably is. But, don't be fooled by the softness of Pisces.

This planetary motion is also a time to pay attention to one's health and the family's health (Moon) as Pisces indicates illnesses and diseases -AND with the Sun opposing, this is doubly so as Virgo deals with health and hygiene as well. Check your chart to see if you have any problematic aspects with the Full Moon especially. These aspects may indicate areas and behaviors in your life that can contribute to you not feeling well. You may inadvertently absorb some shit you don't want because you feel emotionally at peace. Stay vigilant. There is a way to do this with this energy. Meditate, take a nap, go into a trance state by listening to music or other means (as long as it is not harmful to you or others). Sit with your emotions in silence until you can answer yourself assuredly. If you feel that a choice seems too easy, it's probably not the right choice.

For the Sun in Virgo, the transit is the opposite of the Moon in Pisces.
Virgo is the sign of practicality, organization, and efficiency. The transiting Sun in Virgo is a time for you to get organized and clean up. It's an energy that asks to look at what is in the way and move it aside. There is nothing easy about Virgo energy, so a healthy balance of imagination and practicality is suitable for the Moon in Pisces transit.
There are many other things to consider, but these should be a good start.
Thank you for reading!
Don't forget to follow me on IG @mari3rouss3au
Marie Rousseau's Book Recommendation For The UpComing Libra Season:
A beautiful book with astrological and esoteric artwork from all over the world and through the ages!
Book Description From Amazon:
From the beginning of human history, individuals across cultures and belief systems have looked to the sky for meaning. The movement of celestial bodies and their relation to our human lives has been the central tenant of astrology for thousands of years. The practice has both inspired reverence and worship, and deepened our understanding of ourselves and the world around us.

While modern-day horoscopes may be the most familiar form of astrological knowledge, their lineage reaches back to ancient Mesopotamia. As author Andrea Richards recounts in Astrology, the second volume in TASCHEN's Library of Esoterica series, astronomy and astrology were once sister sciences: the King's Chamber of the Great Pyramid at Giza was built to align with constellations, Persian scholars oversaw some of the first observatories, and even Galileo cast horoscopes for the Medicis. But with the Enlightenment and the birth of exact science, the practice moved to places where mystery was still permitted, inspiring literature, art, and psychology, and influenced artists and thinkers such as Goethe, Byron, and Blake. Later movements like the Theosophists and the New Agers, would thrust the practice into the mainstream.

Edited by Jessica Hundley, this vibrant visual history of Western astrology is the first ever compendium of its kind, exploring the symbolic meaning behind more than 400 images, from Egyptian temples and illuminated manuscripts to contemporary art from across the globe. Works by artists from Alphonese Mucha and Hilma af Klint to Arpita Singh and Manzel Bowman are sequenced to mirror the spin of the planets and the wheel of the zodiac. With a foreword by legendary astrologer Susan Miller and wisdom from new interviews with astrologers like Robert Hand, Jessica Lanyadoo, and Mecca Woods, Astrology celebrates the stars and their mysterious influence on our everyday lives.

About the series

The Library of Esoterica explores how centuries of artists have given form to mysticism, translating the arcane and the obscure into enduring, visionary works of art. Each subject is showcased through both modern and archival imagery culled from private collectors, libraries, and museums around the globe. The result forms an inclusive visual history, a study of our primal pull to dream and nightmare, and the creative ways we strive to connect to the divine.

https://www.amazon.com/gp/product/383657988X?ie=UTF8&tag=theegoist99-20&camp=1789&linkCode=xm2&creativeASIN=383657988X