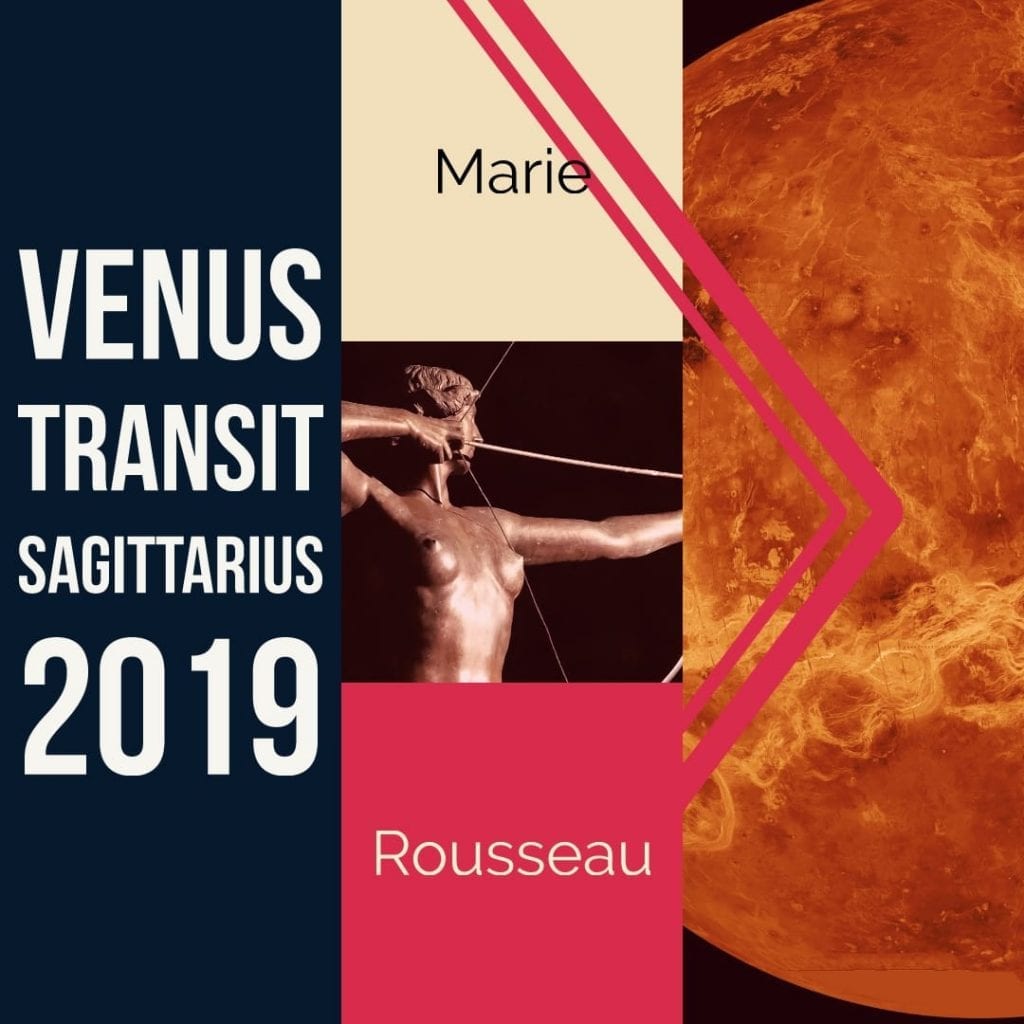 As we get ready to say goodbye to the Venus in transit in Scorpio *weep*, we can now prepare for its entry into Sagittarius.
As an interesting note before I give a brief analysis on how Venus may affect us in the new sign, we see how morals and values came into serious and intense scrutiny when it came to sex, life and death, revenge and money as Venus makes its exit from Scorpio.
For example, the recent unfortunate killing of a young girl caused a drive-by shooting that required investigation to determine the actual killers. We assumed it was a white man in a red truck, but apparently turned out to be an accidental gang hit by two black men. The black community refuses to accept the narrative instead holding onto, fiercely, the idea that this is a racially motivated hit and will not accept that black men could have done this, wanting the original story and sketch of the presumed killer to be arrested.
R. Kelly's sexual deviance concerning young girls coming to the fore once again sparked heavy debate and intense moral relations within the black and entertainment communities.
In addition, the President's vengeful response to being unable to obtain funding for a wall, by shutting down the government, that has caused serious resentments across the country.
However, other transits play a huge part as well, such as the Sun, South Node, Saturn, and Pluto in Capricorn and Mars in Aries, etc… We still see how Venus (even its Shadow Side) has contributed.
By the way, we may start seeing more jokes being made concerning some of the Venus-Scorpio energy and this will undoubtedly create some issues concerning morals and values.
Moving right along…
We know Venus has to do with money, land, appreciation, beauty, art morals, values, and balance, so how will this energy be reflected in the Sign of expansion, laughter, higher learning, travel and transportation, and just overall carefree abundance?
What I will do here is go through each sign briefly to show what kinds of energy we can expect, but if you want a deeper reading and further analysis I can point you in the right direction, just ask. This is not a comprehensive analysis, it truly depends on your planet and house placements, other transits, and progressions, but it will shed some light nonetheless.
FOR SUN AND ASCENDANT (RISING) SIGNS:
ARIES: Venus is entering your 9th house, which is the house that originally belongs to Sagittarius, so these energies are amplified. This house governs all that Sagittarius is so it is concerned with higher learning, long distant travel and transportation, publishing, expansions, higher courts, foreigners and foreign lands. Since Jupiter's arrival, here I am sure many Aries have been traveling or at least itching to travel and now with Venus entering you will be inclined to spend more money doing so. The key here is to not overindulge or spend past your means; you may even be ready to recover from spending habits when Venus was in Scorpio since it was in your 8thhouse, which deals with loans and other people. Overall, this is a good nature house and you could be feeling on top of the world with plenty of love and generosity to give especially since Saturn and Pluto have been casting some serious pressure on your identity and self-expression –more specifically in relation to your career and public image. Use this energy to bolster up those areas in your life.
TAURUS: Venus is entering your 8th house, which concerns other people, sex, loans, and inheritance and transformations. I am sure out of everyone Taurus; you people are the most resentful over the government shutdown, especially if you depend on government work, assistance or taxes. You may find that you are going to be even more pissed off about it now that your sign ruler is in the 8th house. (I know…everybody is always picking on you) You could find that the issues concerning money are mounting more debt than you can handle if you are not careful. The good news is with Jupiter and Venus in this house you should have an easier time asking for assistance from others, but FOR THE LOVE OF GOD DON'T BORROW OR TAKE MORE THAN YOU CAN PAY BACK! These planets may make you feel that the pockets of other people are bottomless, but when Uranus reenters Taurus, you could be in for a seriously rude awakening.
GEMINI: Venus is entering your 7th house, which concerns relationships and lower courts. With Jupiter here as well, finding relationships and being in one seems like a breeze and you may be feeling carefree when it comes to this area of your life. You should use this Venus energy to appreciate the relationships you have because I know when it comes to other people, you have been feeling like no one is around to help. This is partly your fault Gemini's; as you are totally disregard and carefree nature, when it comes to relationships has incurred some serious resentments and lack of assistance from others. Seriously, use this time to make amends, because when Venus enters your 8th house you may find that you are paying many people back.
CANCER: Venus is entering your 6th house, which is concerned with services rendered or received, health, and work. This will bode well for your working conditions, amplified with Jupiter's already generous nature. You could find that money comes easily now with the work you do which should bring some relief since Pluto and Saturn have been causing a hell storm in your relationships. Make sure you do not fall victim to being lazy or you may find yourself gaining extra weight that will not be so easy to lose later. In addition, if your chart supports it, sometime around January 21stwhen Venus and Jupiter conjunct would be a good time to raise prices on your business or ask for a raise or promotion.
LEO: Venus is entering your 5th house, which governs love and children. Since Jupiter's arrival, you have been craving love and affection more than usual. Like, seriously, it is almost all you think about, more so since your work life and health seem to be taking a turn for the worse. Please do not throw caution to the wind and abandon your work responsibilities and health to seek out love affairs or pour all your hard-earned money into your lovers. (Go to work! You can fuck when you come home!) Also, be mindful that your partners could be taking advantage of your loving generosity and you will be paying more than you can afford either with gifts or with travel. It is a good thing that Venus entered here after the holidays or your kids would have obtained small fortunes from your coffers if they did not already. I am serious about staying on task at the job too because when Uranus comes back you may be in for a career switcharoo and you had better have the funds to cover any unexpected losses.
VIRGO: Venus is entering your 4th house, which concerns matters of the home and motherhood and domesticity. With Venus here, you may be finding yourself spending more domestic issues, especially if you expand your home life with new little bundles of joy. Even though you are itching to travel, Saturn in your 5th house has been creating an all work no play attitude and when at one time you would just pick up and leave the house, now you contemplate whether or not it is beneficial or if you can even do it, to begin with. With Venus entering here domestic issues will take even more precedence over play, and if you do decide to relocate these transits should help facilitate that a little easier…that's of course dependent on whether you've been staying the course or recovering from the pressure from a premature move when Saturn was in your 4thhouse.
LIBRA: Venus is entering your 3rd house, which rules over thinking and communication, reading and writing, younger siblings, neighbors, and short journeys. This should help ease even more any mental strains you have been undergoing since Pluto and Saturn decided to create a shit-fest in your domestic and home life. Be mindful that Mars is also in Aries, which may cause you to argue more, but I would advise against that since you are already going through enough. Try to do things that keep your mind preoccupied on things that are more positive and mentally stimulating, like writing a book or a song. Taking trips to the bakery and getting a Danish. Going to local foreign markets and chatting it up with people of different ethnicities. If nothing it will make you feel better, but do not become mentally lazy or the pressures of the home will undoubtedly become overwhelming!
SCORPIO: Venus is entering your 2nd house, which is an "accidental" home for Venus (the 2nd house is originally ruled by Taurus, thus Venus being its rulership planet.), concerning money, land, possessions, morals, value, and food. Scorpio's have been feeling very good with Jupiter and Venus transiting one after the other from the 1st house now to the 2nd, despite the fact that Saturn and Pluto have your heads all fucked up and Uranus's brief visit in the 7th house dropped a fucking bomb on your relationships. (Remember the summer?) I would highly recommend that you do not relax during this transit, as it will seem that money and abundance are just easily pouring in. Save damn near every penny, you obtain during this motion, because when Uranus comes back to Taurus you are going to severely wish you had.
SAGITTARIUS: Venus is entering your 1sthouse (all in your face) which governs matters concerning your identity and self-image. To everyone else, you seem to be doing all right, but these transits are creating a glowing mask for what is really under the hood. Saturn and Pluto are tearing that ass up in the money house and Uranus (which will be back sooner than you think) made for some unexpected changes concerning health and work. Things just seem bleak for Sagittarians, Saturn was not kind to you when it was in your first house and moving about just does not seem as easy as it once was. The good news is Jupiter and Venus could bring benefit for you just by behaving and projecting positivity and appreciation, which in turn can help ease some of the strain from the karma incurred over the last 3 years. Be careful not to behave over confidently or with arrogance or the opposite effect of this transit will be devastating.
CAPRICORN: Venus is entering your 12th house that concerns matters of the subconscious, sorrows, dreams, inspirations, jails, hospitals, and mental institutions. Since Jupiter's entry here you have been feeling a lot of emotional relief and may have even opened up a bit when it comes to your sense of humor (which let's be honest you don't really have one.) Now with Venus here you can appreciate some of the expanding reflections you have been undergoing. You will have some triumph over secret enemies and may even receive assistance from secret friends you didn't even know support you. The part to be cautious about is not to spend too much time in solitude trying to escape the pressures of Pluto and Saturn in your 1st house. Use this energy to facilitate the transformation you're undergoing to your self-identity instead of running away from this responsibility.
AQUARIUS: Venus is entering your 11th house, which deals with friends and elders in your social networks, technology, groups, and humanitarian issues. With Jupiter already here, you have been expanding your social circle and taking a flight to different events as well as meeting up with friends and family, new, and old. With Venus here too, you will be inclined to spend more time hanging out, attending social gathers and investing or participating in more activities that are humanitarian. Because Aquarius naturally occupies the 11th house the need for friends and social interaction is more profound than before. You will be seeking new people who share the same values as yourself while simultaneously suddenly getting rid of those who do not. Be mindful not to expend too much of your energy with these activities and it can and will take a lot out of you, drawing you into bouts of depression and frustrations. Also, careful not to spend too much on gizmos and gadgets trying to keep up with the Jones'.
PISCES: Venus is entering your 10th house, which is the house of career and the public image. Jupiter should be making some strides to add benefit this area of your life and with Venus joining in should see you reaping the benefits monetarily as well. The only issue you will have with this is the fact that you cannot rely on your social network to do it and you may miss your opportunities with Neptune in your 1st house if you are not careful. You are going to have to pull yourself out of the funk caused by Saturn when it pissed all over your career and public persona 2 years ago and except the fact that your friends will not be as readily available as they once were. If you want to benefit from these transits, you are going to have to work at it and stop escaping into the fantasy world.